ACCA KAPPA Lympio Collection Gift Set of Black Toothpaste 100ml, Gum Protection Toothpaste 100ml, 3 Medium Nylon Toothbrushes
ACCA KAPPA
ACCA KAPPA Lympio Collection Gift Set of Black Toothpaste 100ml, Gum Protection Toothpaste 100ml, 3 Medium Nylon Toothbrushes
ACCA KAPPA
ACCA KAPPA Lympio Collection Gift Set of Black Toothpaste 100ml, Gum Protection Toothpaste 100ml, 3 Medium Nylon Toothbrushes
Please login for pricing
---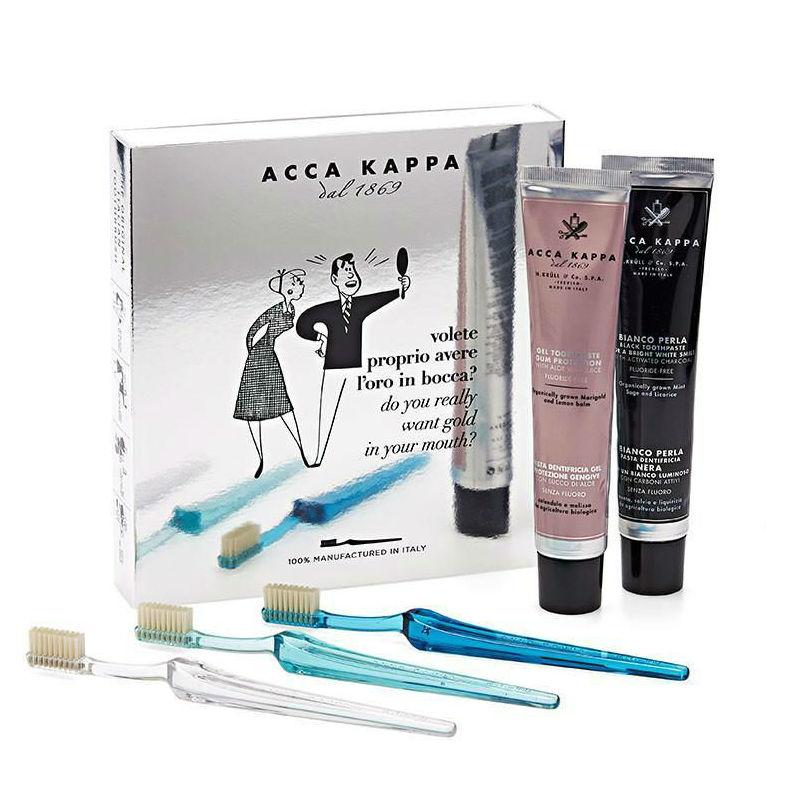 The Lympio Collectio Gift Set, including:
3 x Medium Nylon Lympio Toothbrushes
Black toothpaste with activated charcoal 100 ml
Gel toothpaste gum protection 100 ml
3 x Medium nylon Lympio toothbrushes
The original Italian "Art Déco" toothbrush.
Inspired by an original 1930s sketch retrieved from the company's historical archives, the LYMPIO series is now available in four elegant shades of marine blue.
Black toothpaste with activated charcoal
Thanks to its activated Charcoal, this ACCA KAPPA toothpaste maintains and improves the natural whiteness of your teeth. Provides effective oral hygiene and helps to prevent cavities.
Does not contain: Saccharin, Colourants
Gel toothpaste gum protection
Ideal for sensitive gums, this Gum Protection Toothpaste contains extracts of Aloe Vera, organic Marigold and Lemon balm. Perfect for soothing and protecting gums.
Does not contain: Saccharin