The White Moss Collection by ACCA KAPPA
Iconic and easy-to-fall-in-love with, Acca Kappa's bestselling 'White Moss' is a perfect example of how made-to-share fragrances (those that combine typically masculine and typically feminine scents) are often the most dynamic and captivating.
With the ever-popular collection consisting of eau de parfum and eau de cologne as well as home fragrance, and natural body and hair care there really is something for everyone and to suit different grooming and beauty needs.
As you may have guessed, White Moss is a unisex fragrance combining delicate and musky notes that are truly irresistible. Hair and body care reflect the feel of the fragrance, with a focus on gentle cleansing and care making them suitable for sensitive skin and hair types. Read on to find out more about the range and product line!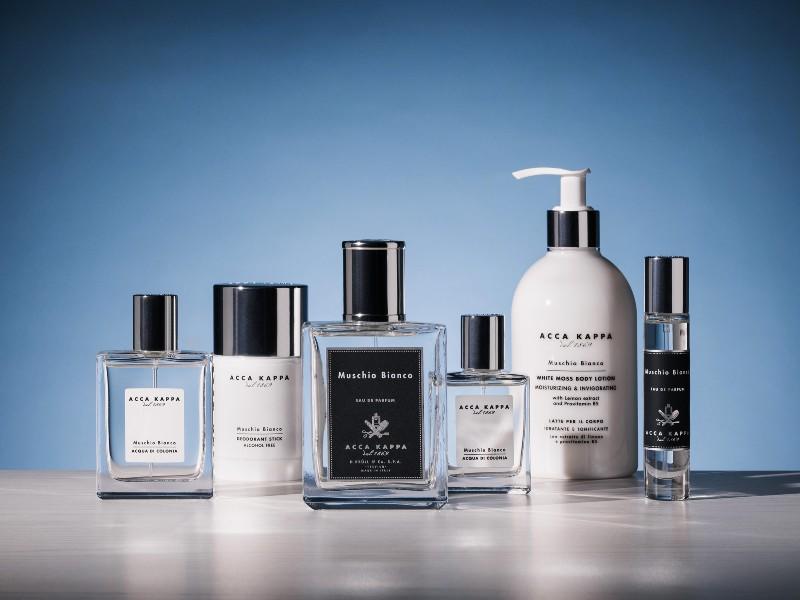 Pictured: White Moss Eau de Cologne, White Moss Natural Stick Deodorant, White Moss Eau de Parfum and White Moss Body Lotion
Personal Fragrance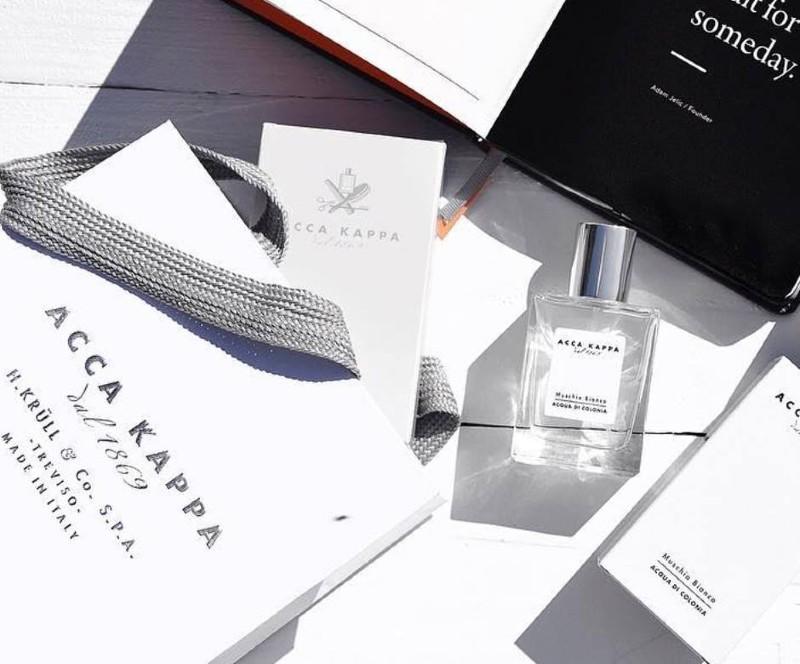 Pictured: White Moss Eau de Cologne
Available as:
Eau de Cologne in 30ml, 50ml and 100ml
Surrounding the body with the freshness of Italian Spring, White Moss is refined, contemporary and irresistible. With top notes of lemon, bergamot, juniper and citrus accord the fragrance opens with a fresh and delicate air. This is followed by diverse and classic heart notes of lavender, sweet woods and a hint of spicy cardamom as well as aldehydes, giving the fragrance a scintillating quality. Seamlessly underpinned by softening, earthy white musk, sweet amber and warm cedarwood the giving the fragrance a balanced serenity.
Home Fragrance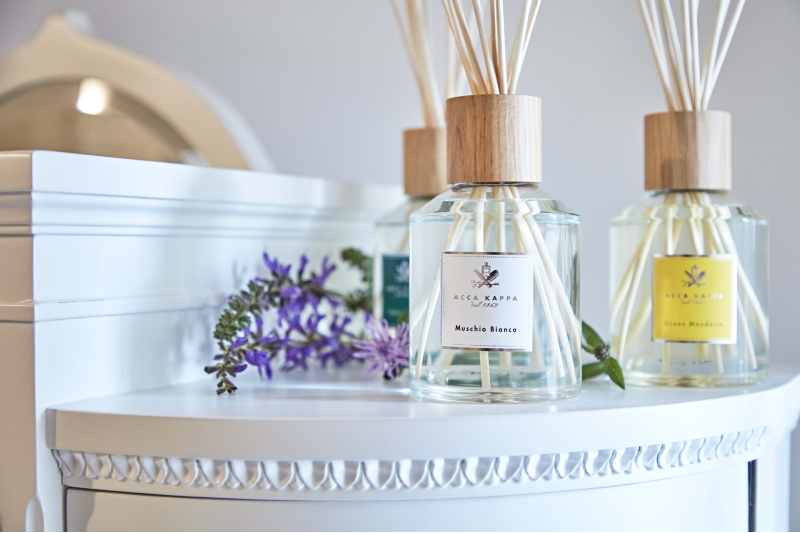 Pictured: White Moss and Green Mandarin Home Diffusers by ACCA KAPPA
Available as:
Home Fragrance Diffuser with Wooden Sticks (250ml). Harmoniously blending sweet and sensual notes, the White Moss Home Diffuser fills the air with a sense of calm and serenity.
HAIR CARE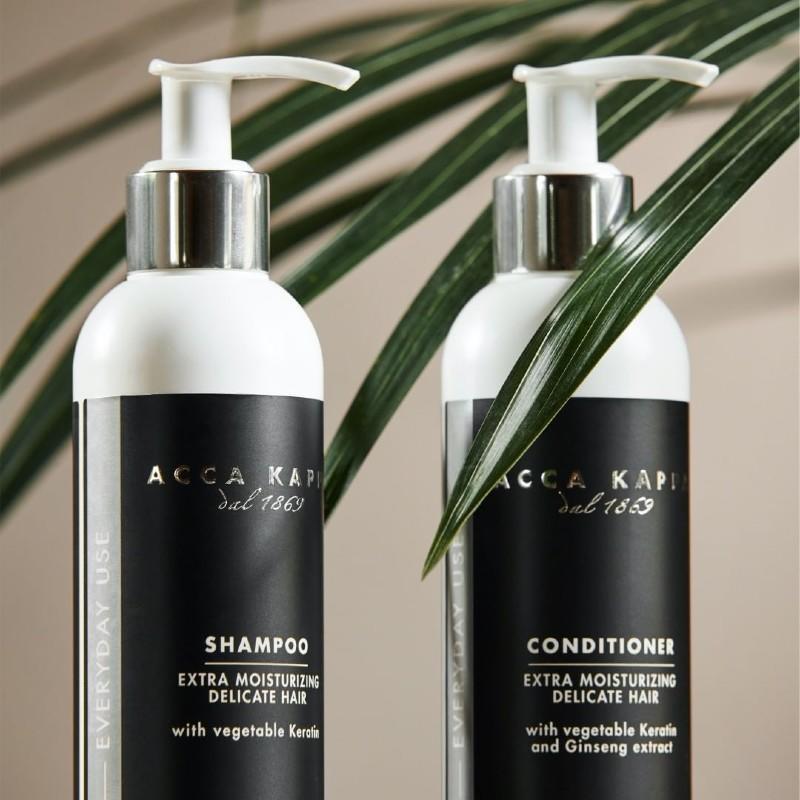 Pictured: White Moss Shampoo & Conditioner
Acca Kappa's extensive 150-year history of brush making makes hair care a key part of the heritage brand's product portfolio. The White Moss Hair Care Collection includes a simple yet complete product range of: Shampoo, Conditioner, Restorative Hair Serum and Nourishing Hair Perfume.
White Moss Shampoo for Delicate Hair
Delicately nourishing and cleansing, this shampoo's rich formula combines plant-based amino acids and vegetable keratin to help restructure and moisturise the hair. Unique in its ability to capture and transport water, vegetable keratin closely resembles hair keratin, enabling it to penetrate and moisturise the hair much more effectively than other active ingredients. Particularly suitable for delicate hair, the shampoo also contains the anti-oxidant extract witch hazel, to help soothe and protect.
White Moss Conditioner for Delicate Hair
Also employing the deeply moisturising qualities of plant-based amino acids and vegetable keratin, this conditioner is particularly suitable for delicate hair. It also contains ginseng extract to help stimulate and revitalise hair!
White Moss Restorative Hair Serum
Formulated with Inca (Jojoba) oil, this Restorative Fluid protects, hydrates and effectively restructures the hair. Restoring elasticity, the exceptionally nourishing fluid helps to prevent split ends and leaves hair feeling soft and silky.
White Moss Nourishing Hair Perfume
The perfect pick-me-up for tousled hair, White Moss hair perfume is a delightful way to enjoy Acca Kappa's most iconic fragrance. Tending to last much longer than regular fragrances, hair perfumes allow you to layer your scent, leaving you smelling exquisite all day. Similar to hair serums and oils, White Moss Hair Perfume is full of nourishing and moisturising ingredients, helping create a hydrated and glossy finish. A saviour for damaged hair, White Moss Hair Perfume helps strengthen and restore elasticity with extracts of Green Tea and Red Grapevine, it works to protect hair against external aggressors.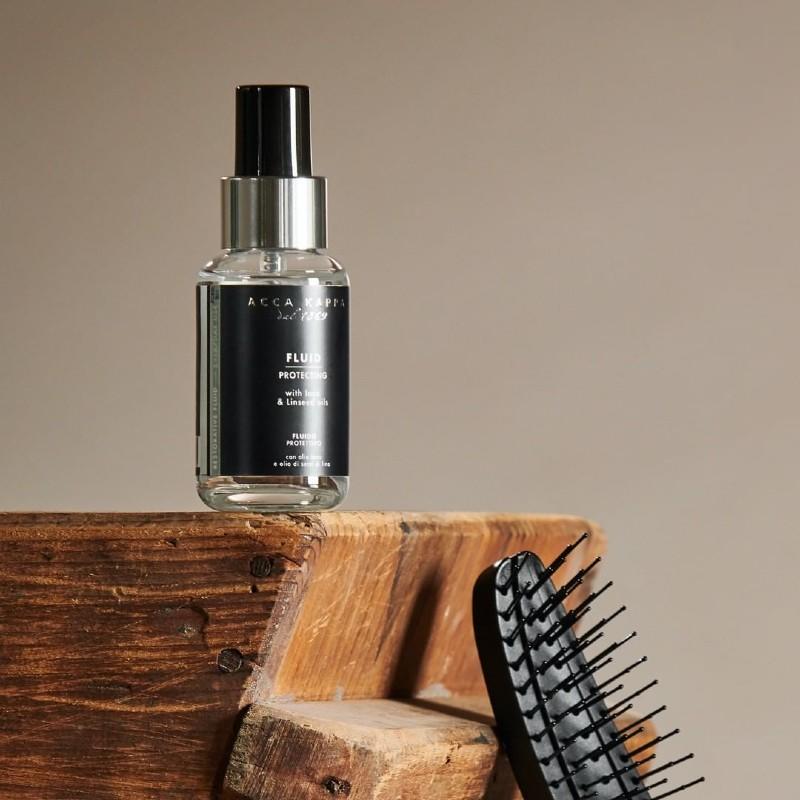 Pictured: White Moss Restorative Hair Serum with Airy No. 2 Brush
Body Care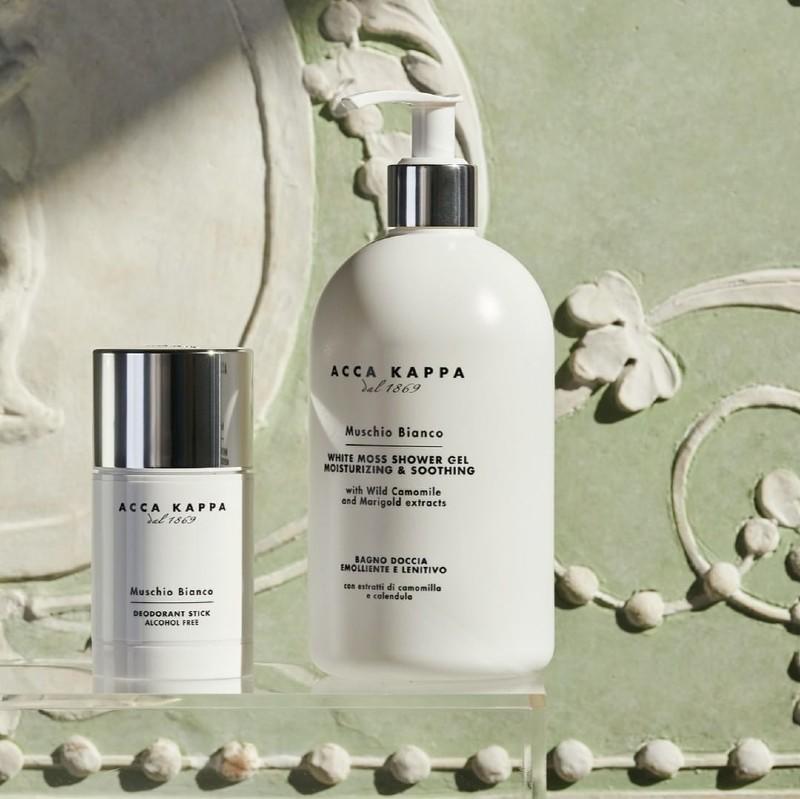 Pictured: White Moss Natural Deodorant Stick and White Moss Shower Gel
Soothing and moisturising the White Moss Body Care Collection is ideal for gentle cleansing and sensitive skin. With skincare products focusing on naturally active plant-based ingredients, the range champions extracts of chamomile and marigold for a collection that is well suited to men and women alike as well as those with particularly sensitive skin.
Products Available: Bath & Shower Gel, Body Lotion, Body Butter, Natural Deodorant (Spray or Stick), Soap, Hand Cream, Sanitising Hand Gel.
Bath & Shower Gel and Body Lotion
With chamomile and marigold extract the shower gel soothes the skin while a high content of glycerine, rice starch and silk proteins deeply moisturise. All surfactants are of plant origin and effectively cleanse without drying the skin.
Body Lotion is soft and creamy with lemon extract and provitamin B5, it invigorates and calms the skin.
Formulated using Shea butter and dermo-active compounds of solely botanical origin, White Moss Body Butter is rich, nourishing and intensely moisturising. With vitamins A, B, E and F Shea Butter has both antioxidant and anti-ageing properties. Also fantastic for stimulating the formation of new collagen and connective tissue, White Moss Body Butter works to make the skin firmer and more elastic.
Made with pure plant and coconut oils, White Moss is one of Acca Kappa's many vegetable soaps. Softly scented and ideal for gentle cleansing, the soap is created using traditional techniques with raw materials exclusively of plant origin.
Ideal for combatting inflammation and cracking, intensive White Moss hand cream provides long-lasting hydration for a soft, silky feel. Carefully selected for their skin-purifying, protective and soothing properties the natural ingredients chosen for this hand cream include Blackberry, Violet and Magnolia extract to provide an emollient and moisturising action on the skin.
With the irresistible fragrance of White Moss, Acca Kappa's deodorants are aluminium-free, effectively eliminating odours whilst respecting the skin's natural balance.
Available in handbag size 100ml or counter size 300ml Gel, as well as 300ml Hand Wash.
White Moss Hand Gel is formulated with chlorhexidine and a high alcohol percentage to ensure no nasties are left lingering. Other ingredients include active witch hazel, glycerine and panthenol to ensure skin is not left dry and sore. Fast-acting, the sanitiser leaves hands fresh and soft, sweetly scented with a White Moss fragrance.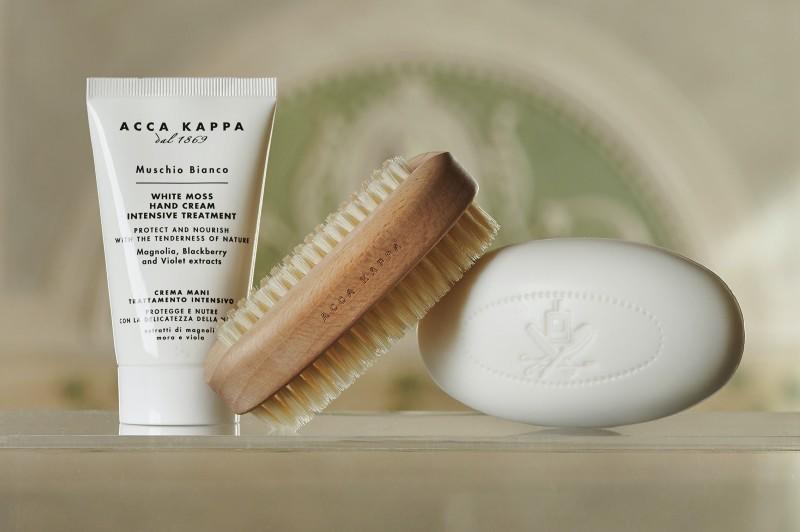 Pictured: White Moss Hand Cream, Nail Brush by Acca Kappa and White Moss Soap
Like what you're reading?
Here's some Brighton Group blog recommendations for the latest in beauty & grooming: