When more and more YouTube tutorials on body shaving with a safety razor started popping up, and a new cohort of customers started tagging MÜHLE on Instagram, with beautifully curated images of the plastic-free contents of their washbag – within which the R89 razor appeared front and centre, it was obvious that the time had come. Time for a new product; a razor which would be both a natural progression of the design-led, precision engineered shaving products MÜHLE has been making since 1945, and the dawn of a new era for a company focused on male-grooming to create a razor designed for use on the body and face- unisex and universal something for everyone.
We noticed more and more women adopting traditionally 'male' safety razors for personal use because they weren't satisfied with what was on offer in pharmacies or supermarkets. 'Women's' razors are generally plastic, disposable and garishly 'feminine' in a way that is outdated and simply sexist. The gravitation to longer-life, well-crafted products made from sustainable materials is of course not exclusive to women and within this new cohort of customers we have seen a range of younger and middle-aged people looking for an easy-to-use safety razor for different purposes; namely body or face shaving.
With these considerations, MÜHLE being a design-savvy brand wanted to create something that was purist, functional and fit for purpose. The design process consisted of many months of fine-tuning, to create a razor suitable for different people and different needs. "The challenge was to achieve the perfect balance between a mild-shaving sensation with as little irritation as possible and a thorough result," says MÜHLE CEO Andreas Müller. Minimising the risk of cuts was another priority.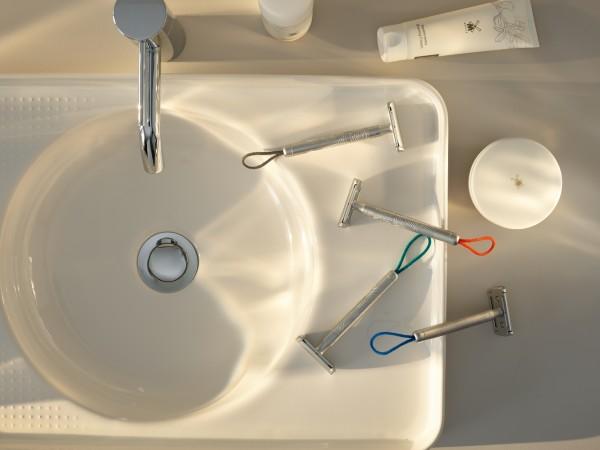 A glorious feat of form and function, the contemporary Companion is simply beautiful
The result is the Companion, a razor that doesn't look 'traditional' and 'is neither masculine nor feminine' but 'contemporary' and 'simply beautiful' in Müller's words. With a razor head that features so many innovations MÜHLE has now applied for a patent for it, the Companion is a glorious feat of both form and function. The blunt sides of the razor blade which typically protrude are enclosed within the sides of the razor head, for more protection during body shaving whilst rails on the razor head only allow shaving to take effect when the blade is ideally positioned at an angle of 30⁰ to 50⁰. The handle has also been extended to make shaving legs easier and the stylised fingerprint design provides grip ensuring that the razor doesn't slip out of your hand even when you're in the shower. The fingerprints are also a subtle nod to individuality and an elegant take on the intimacy of everyday beauty and grooming.
The Companion is available with a replaceable cord hook in blue, turquoise, coral, or stone and has a UK RRP of £36. UK distribution for the razor is exclusive to Brighton Group- shop the razor here. We recommend also MÜHLE razor blades which retail for £2.50 so customers can purchase them easily with their razor.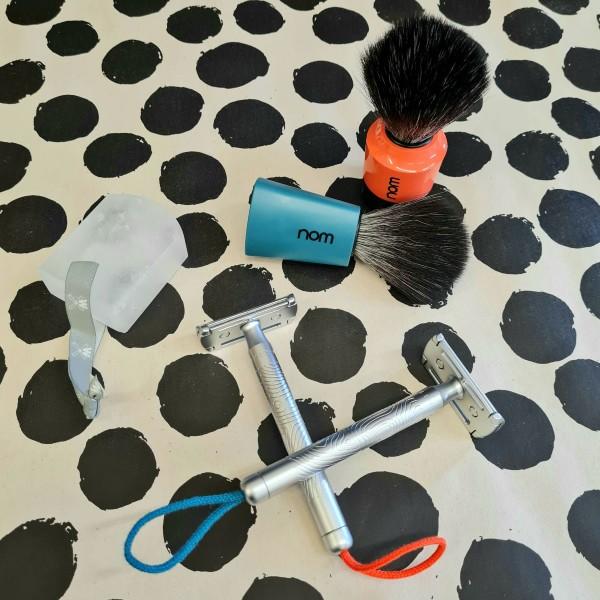 Perfectly colour matched, with handy no-frills nom brushes and an alum block for an easy introduction to shaving with a safety razor
You can offer your customers the complete wet shaving experience, at an easy, introductory price with handy, no-frills nom shaving brushes now available with eco-friendly packaging, a MÜHLE paper wrapped soap, and a natural alum stone an instant remedy for small nicks and also to refresh skin and kill any surface bacteria.
Looking for more eco-swaps? Check out Acca Kappa's luxurious EYE collection of biodegradable, recyclable hairbrushes, and toothbrushes.