RED1SR MÜHLE EDITION Carbon Handle Safety Razor
MÜHLE
RED1SR MÜHLE EDITION Carbon Handle Safety Razor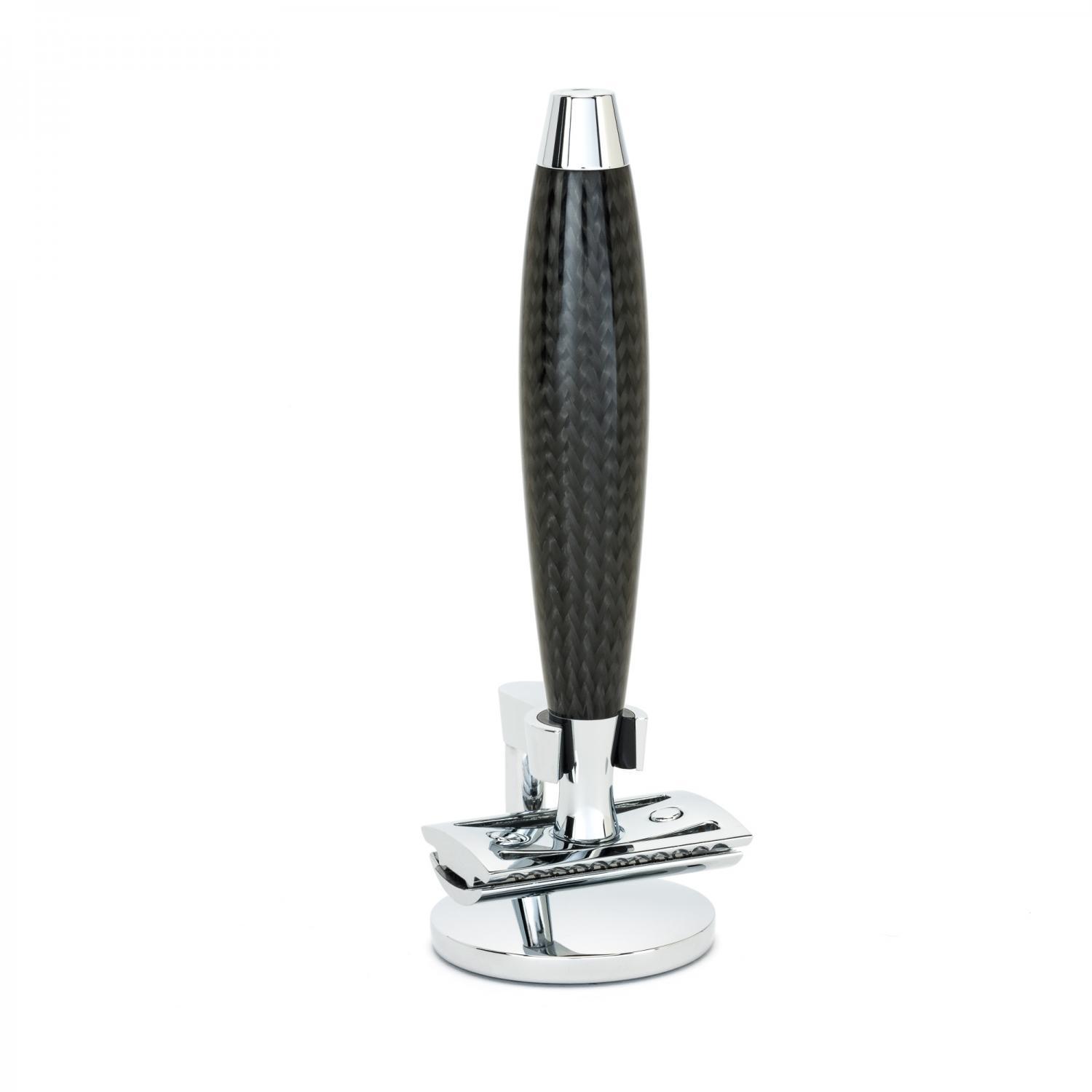 EDITION - Carbon Safety Razor from MÜHLE, incl. Stand
Safety razor, closed comb with classic blade
Handles made of carbon with chrome-plated metal highlights
Stand for razor, made of metal, chrome-plated
The Material - Carbon
Carbon is an element which occurs naturally in a wide variety of forms. Carbon compounds are even to be found in diamonds. Engineers and active racing experts enthuse about the carbon used in industry.
Aesthetes love above all the fine light reflections created by the dark material. Following a complex development process we use this challenging material for the innovative design of MÜHLE EDITION No. 1. In doing so, we work the conventional, flexible fibrous structures by hand in a special process.
Individual blanks – which later become the handles of brushes and razors – are covered with the weave. Then they are placed in a form where the fibres are evenly aligned and soaked and cured with high-grade resin in several work steps, then finally polished. This produces the gleaming surfaces with their dynamic reflections.
The Razorhead - Classic razor blade
For generations, the safety razor has been regarded as a stylish classic which can even shave edges with precision. For many, it is the razor par excellence. Its styling is ideally suited to the design of the MÜHLE products.
Even if the open blade does demand a little respect at first: After a brief familiarisation period, and guided by a steady hand, it produces a very close shave and a lasting result. Unlike modern blade systems, the head of the safety razor does not move. The blades are replaced by unscrewing the cap. They can be purchased from us and by retailers everywhere.
Measures
Razor dimension: 42mm x 115mm & weight: 78g
Stand dimension: 42mm x 34mm & weight: 128 g