MÜHLE ROCCA Jet Black Stainless Steel Silvertip Badger Set
MÜHLE
MÜHLE ROCCA Jet Black Stainless Steel Silvertip Badger Set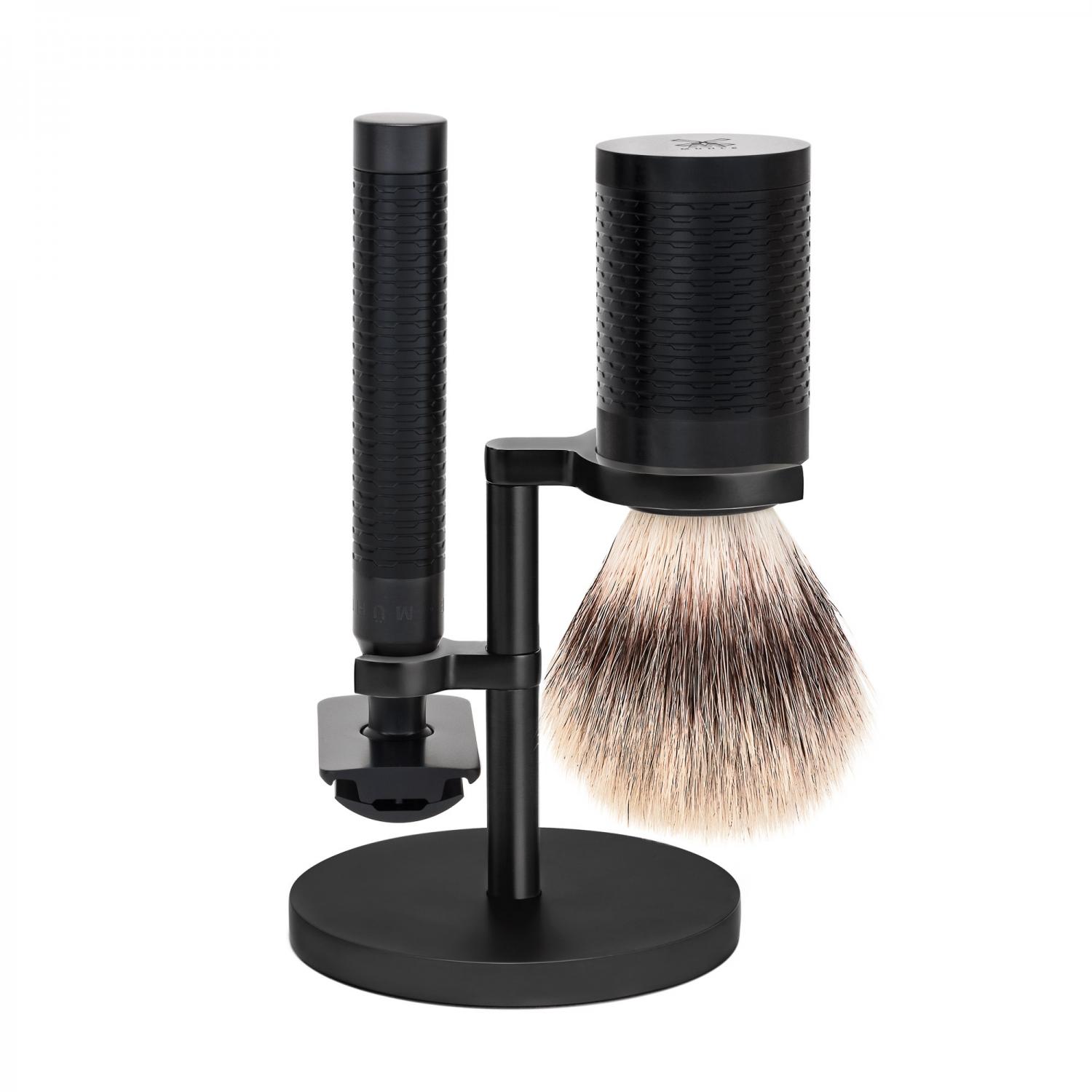 3-piece shaving set, handles made of stainless steel with black
Shaving brush with Silvertip Fibre®, replaceable head
Ring size M: 21 mm
safety razor
stand made of stainless steel
The ROCCA series
Beautifully simple, yet particularly masculine: This is the new ROCCA range of products. A little more modern, and more distinctive than much of what is known from MÜHLE, they are made from the finest and most durable stainless steel. But it has been worth the effort: These products are particularly durable and robust. The satin or slightly matt finish not only feels good in your hand, but is also pleasing to the eye and creates an elegant effect.
Even with all of these new details, ROCCA's heritage is still very evident. The design of this range is a further development of classic MÜHLE models; the name ROCCA (from the Italian for castle or fort) refers to the very best materials – and also to the fact that a MÜHLE product will last a lifetime and beyond.
The Brushhead - Silvertip Fibre®
The high-quality synthetic fibres represent a world first of our own invention. We offer a synthetically produced premium quality whose material characteristics are analogous to those of the precious natural hair, silvertip badger. The majority of the users even say that this quality actually provides better performance characteristics than the natural hair.
'Silvertip Fibre®' is very soft at its fine tips, but somewhat more stable than natural hair in the middle section. These characteristics produce a pleasant, soft sensation on the skin when the lather is applied, without having to forgo the desired firmness of the hairs in the lathering process. In daily use, the manually processed fibres are less sensitive than natural hair as they dry more quickly and are resistant to shaving soaps and creams.
The completely vegan fibres are also somewhat easier to use than natural hair as they produce a particularly creamy and thick lather from a small amount of shaving soap or cream, which is used much more sparingly as a result.
DLC Coating
The outer shell of the razor features a stylish DLC coating.
DLC coatings were originally developed for the automotive and racing sector.
The diamond-like carbon layers are many times harder than steel and extremely durable.
Due to their elegant appearance, they are a perfect choice for decorative applications such as watch housings.
Proof that beauty can indeed be timeless.