S091M41BLACK MÜHLE Silvertip Badger / Black Handle Safety Razor (Open Comb) Shaving Set
MÜHLE
S091M41BLACK MÜHLE Silvertip Badger / Black Handle Safety Razor (Open Comb) Shaving Set
MÜHLE
S091M41BLACK MÜHLE Silvertip Badger / Black Handle Safety Razor (Open Comb) Shaving Set
Please login for pricing
---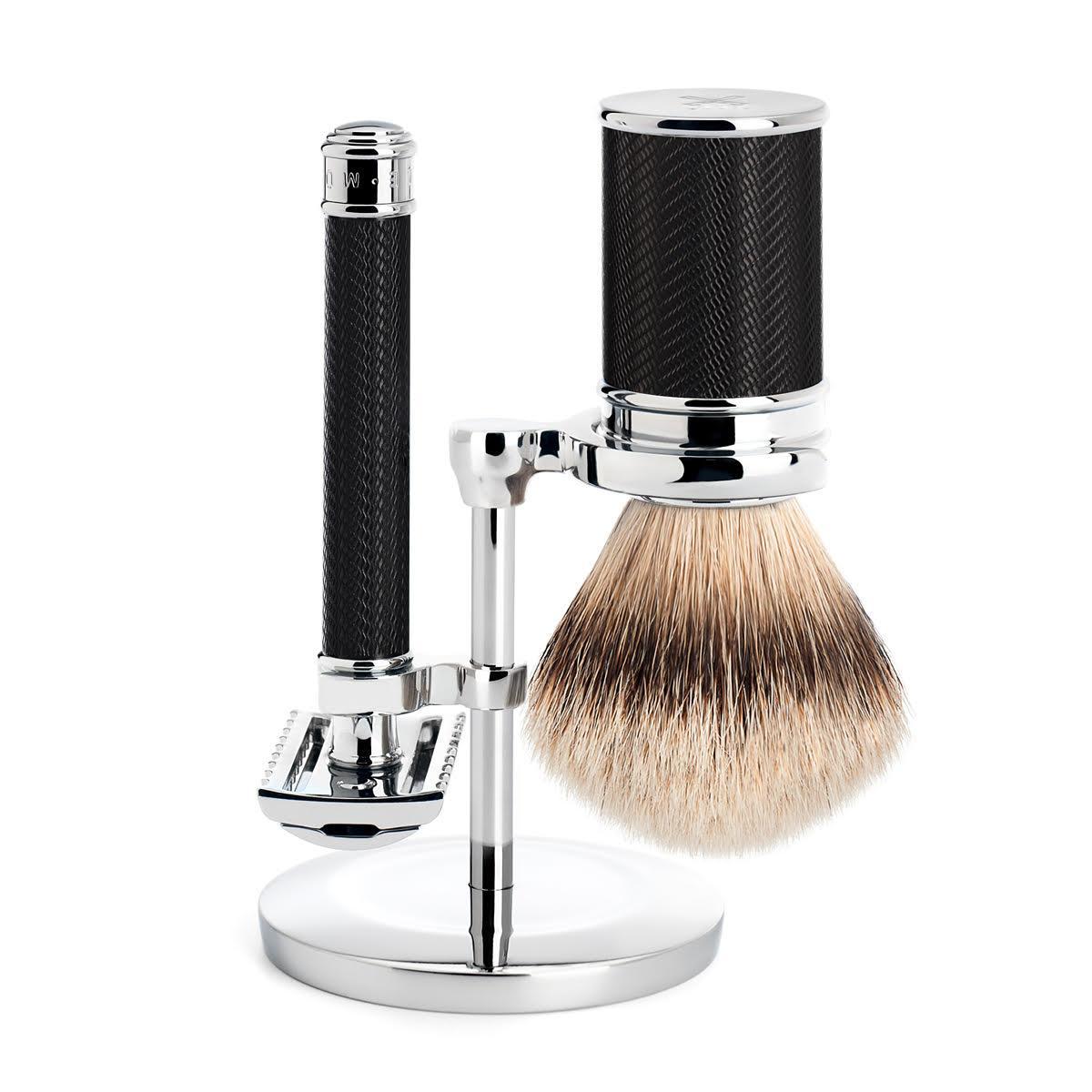 TRADITIONAL - Black and Chrome, Open Comb, Silvertip Badger Shaving Set from MÜHLE
3-piece shaving set without bowl, including:
Silvertip Badger Shaving Brush (Black)
Open Comb Safety Razor (Chrome with Black Chrome Handle)
Chrome-plated Metal Stand
The iconic MÜHLE Traditional Range is a minor marvel of precision, ergonomics and beauty; where classic design meets radiant quality.
Long lasting and corrosion-resistant, providing incomparable quality and longevity. A premium shaving set which produces a distinctly close and lasting shave.
Silvertip Badger
Natural, soft and flexible; only the best, carefully selected badger hair is used to create these handcrafted shaving brushes.
Silvertip badger hair represents the finest, softest and rarest quality of badger hair available. The hair is renowned for its ability to retain large amounts of water, enabling the brush to quickly produce a dense, stable and creamy lather.
Manufactured using historical tools, the semi-circular shape of the brush is created by hand when binding. The fine tips of the hair, therefore, do not require trimming and the natural softness of the hair is retained. This artisan procedure is mastered by only a few specialists worldwide, the quality of work evident in the even black band running through the predominantly silver brush head.
Replacement brush heads are available from MÜHLE here.
Open Comb Safety Razor
A premium product that produces a distinctly close and lasting shave.
A real investment piece, this safety razor supersedes the need for single-use plastic. Growing concern in the effects of disposable plastic makes the this a great choice for the environmentally conscious, reducing both unnecessary plastic waste and unwelcome environmental impacts, without compromising on precision.
The safety razor with open tooth comb was developed specifically for experienced wet shavers, allowing for a vigorous, direct shaving technique. The blade is less likely to become clogged by stubble and residues so is generally preferred by men with denser, stronger beard growth.
Blades are easily replaced by unscrewing the head of the Safety Razor. Replacement blades can be purchased from us, we recommend the rust-proof MÜHLE razor blades, a perfect match for this timeless razor.