S21M228SF MÜHLE RYTMO Petrol Blue 4-piece Black Fibre / Fusion Shaving Set
MÜHLE
S21M228SF MÜHLE RYTMO Petrol Blue 4-piece Black Fibre / Fusion Shaving Set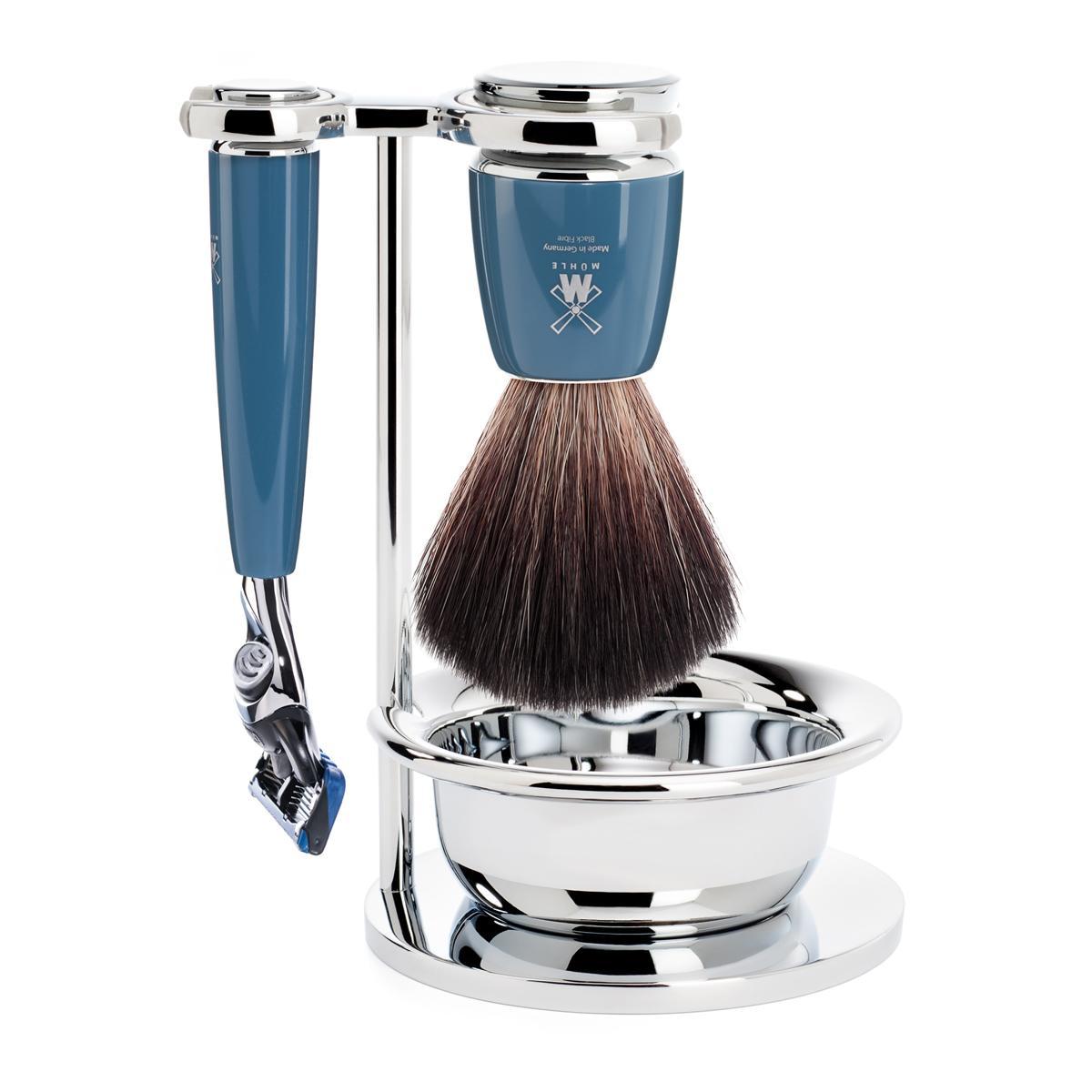 RYTMO - Gillette Fusion Razor, Black Fibre Brush Shaving Set in Petrol Blue
4-piece shaving set with bowl, including:
Black Fibre Shaving Brush
Gillette Fusion Razor
Chrome-plated Soap Dish
Chrome-plated Metal Stand
RYTMO is a popular choice within our INTRO range and it's easy to see why; the design is both eye-catching and timeless. With a classic conical form, interrupted by distinctive lines at the chrome plated top and base it is like a measured musical composition.
The Material
Made from high-grade resin, this RYTMO set delivers on both durability and beauty. Presented in petrol blue with chrome metal highlights, the process of creating this set begins with each handle being turned out of solid resin rods. All individual pieces are then polished in several passes, giving the surface its characteristic gleam and securing its beauty for many years to come.
Black Fibre
Somewhat softer than natural hair, the synthetic Black Fibre offers a fantastic vegan alternative to Pure Badger. Closely replicating the quality of Pure Badger, a Black Fibre bundle offers a somewhat more durable and lower maintenance brush.
Still producing a particularly creamy shaving lather, Black Fibre is manufactured mechanically according to the same high standards applied to all MÜHLE products.
The Razor
Simple and safe handling, Gillette Fusion is ideal even for newcomers. It ensures a close and gentle shave with its five-blade system and precision edging blade located on the back of the cartridge.
Replacement blades are available from retailers worldwide.