S433EDMEISSENF MÜHLE Edition Meissen 3-Piece Silvertip Fibre®/Fusion Set
MÜHLE
S433EDMEISSENF MÜHLE Edition Meissen 3-Piece Silvertip Fibre®/Fusion Set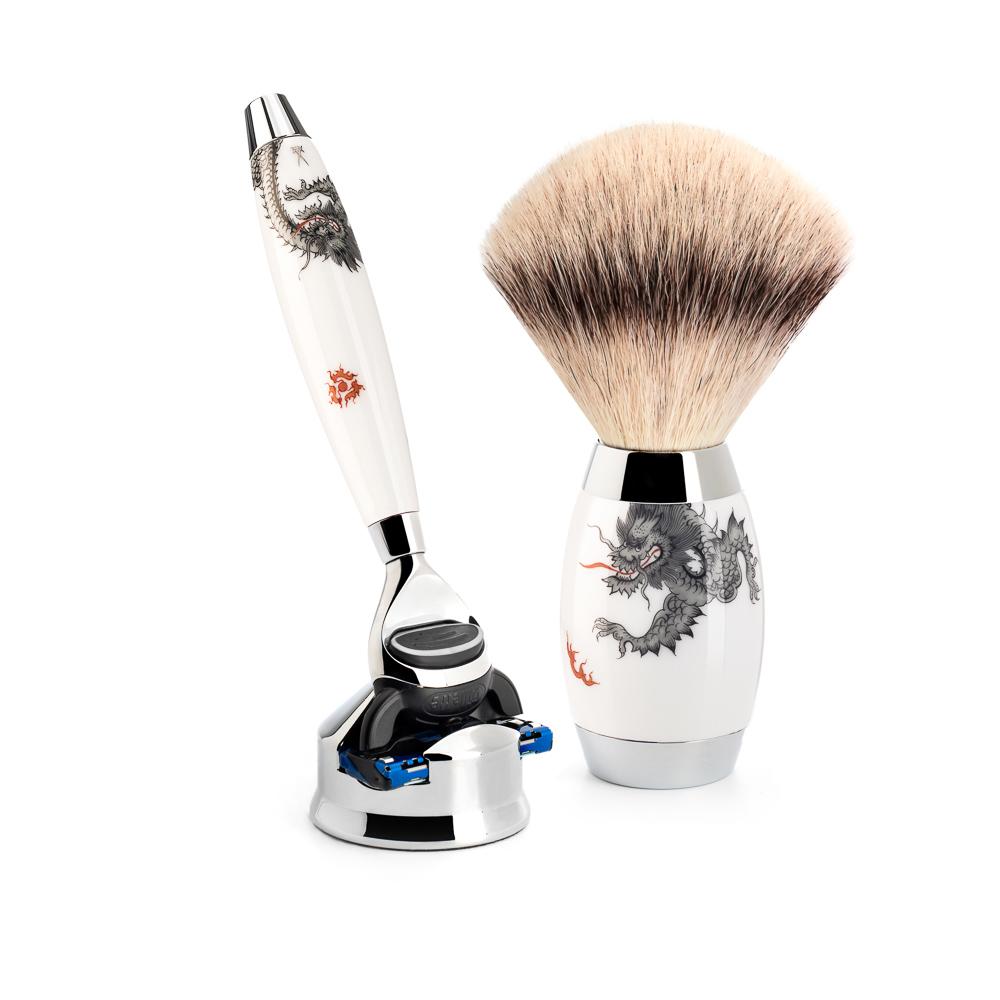 EDITION - Shaving set from MÜHLE, Silvertip Fibre®, with Gillette® Fusion™, handle material Meissen Porcelain
3-part shaving set with:
Shaving brush with Silvertip Fibre®
Ring size L: 23 mm to unscrew
5-blade razor, compatible with Gillette® Fusion™
blade guard made of plastic
Handles made of Meissen Porcelain with chrome-plated metal highlights
hand-painted decor: Chinese Ming dragon
The Material - Meissen Porcelain
The handles of this EDITION are made of pure Meissen porcelain. Their decor, the Chinese Ming dragon, showcases what is probably the most famous painting of
this renowned manufactory. Made by master craftspeople and meticulously painted with the utmost care and attention, the elegant handles are probably one of the most beautiful things that MÜHLE has ever produced. And what about the dragon? It's a symbol of masculine energy – day after day, on Tuesdays as well as Sundays.
From the composition of the bright red hue (which is, incidentally, the colour of happiness) to the overglaze technique, this pattern is familiar to many, many generations. A ring made of chrome-plated metal is a beautiful feature on the neck and bottom of each handle.
Without chrome the world would forfeit a lot of its lustre. In the finish used for our wet shaving accessories it demonstrates its best qualities: The material is corrosion-resistant, very long-lasting and has a luxurious, alluring lustre. When contrasted with this, the colours and shapes of other premium materials are shown to their very best advantage.

The Brushhead - Silvertip Fibre®
The high-quality synthetic fibres represent a world first of our own invention. We offer a synthetically produced premium quality whose material characteristics are analogous to those of the precious natural hair, silvertip badger. The majority of the users even say that this quality actually provides better performance characteristics than the natural hair.
'Silvertip Fibre®' is very soft at its fine tips, but somewhat more stable than natural hair in the middle section. These characteristics produce a pleasant, soft sensation on the skin when the lather is applied, without having to forgo the desired firmness of the hairs in the lathering process. In daily use, the manually processed fibres are less sensitive than natural hair as they dry more quickly and are resistant to shaving soaps and creams.
The completely vegan fibres are also somewhat easier to use than natural hair as they produce a particularly creamy and thick lather from a small amount of shaving soap or cream, which is used much more sparingly as a result.
The Razorhead - Gillette® Fusion™
The latest shaving system from Gillette® embraces five blades positioned one above the other as well as a precision edging blade located on the back of the cartridge. This design ensures a very close and gentle shave. Its simple and safe handling is ideal even for newcomers. The blades are available from retailers everywhere.
The blade guard made of plastic protects the blade and prevents from cuts when storing the safety razor or while travelling. Works for all MÜHLE Gillette® Fusion™ razors.