Triumph & Disaster Restoration Balm 500ml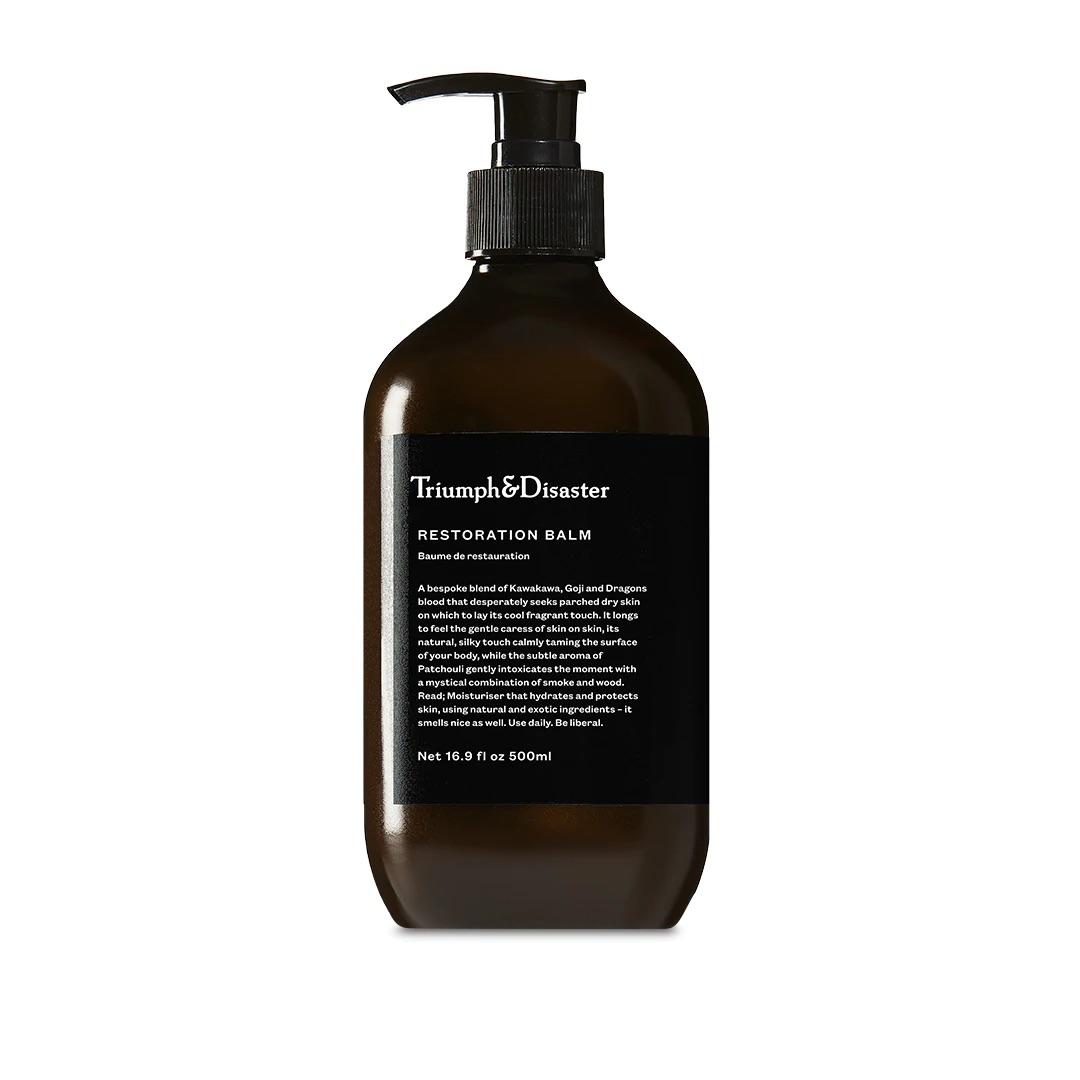 Restoration Balm is a bespoke blend of Kawakawa, Goji and Dragons blood that desperately seeks parched dry skin on which to lay its cool fragrant touch. It longs to feel the gentle caress of skin on skin, its natural, silky touch calmly taming the surface of your body, while the subtle aroma of Patchouli gently intoxicates the moment with a mystical combination of smoke and wood. Read; Moisturiser that hydrates and protects skin, using natural and exotic ingredients - it smells nice as well. Use daily. Be liberal.
Directions
Apply to dry skin daily for all over hydration. External use only. Avoid contact with eyes.
Key ingredients
Dragons Blood
Is a topical aid found in the Amazon that is good for just about anything bad that can happen to skin. Cuts, bites, burns, stings, rashes, abrasions, sores, and wounds of all kinds benefit from application of this wonder product. So apart from having the coolest name of any ingredient on the planet it also delivers when it needs to, in this case calming and healing the scalp.
Kawakawa
Kawakawa in Māori refers to the bitter taste of the leaves, from kawa meaning bitter. Kawakawa or NZ Pepper Tree was one of the most important plants in Rongoa (medicine), Maori used it externally for cuts, wounds and bruises and also applied it as a treatment for toothache, nettle stings and eczema. All of which leads us to believe that it makes for a great ingredient in a cleansing, calming body wash.
Jojoba
(pronounced ho-HO-ba) is a botanical extract from the seed of the jojoba tree. Jojoba helps make Gameface light and non-greasy, being a wax ester it is the closest thing to the oil your skin naturally produces, so it is easily absorbed and works with your skin rather than fighting against it.