ACCA KAPPA Vintage Collection Gift Set of Total Protection Toothpaste, Natural Toothpaste, 3 Medium Nylon Toothbrushes
ACCA KAPPA
ACCA KAPPA Vintage Collection Gift Set of Total Protection Toothpaste, Natural Toothpaste, 3 Medium Nylon Toothbrushes
ACCA KAPPA
ACCA KAPPA Vintage Collection Gift Set of Total Protection Toothpaste, Natural Toothpaste, 3 Medium Nylon Toothbrushes
Please login for pricing
---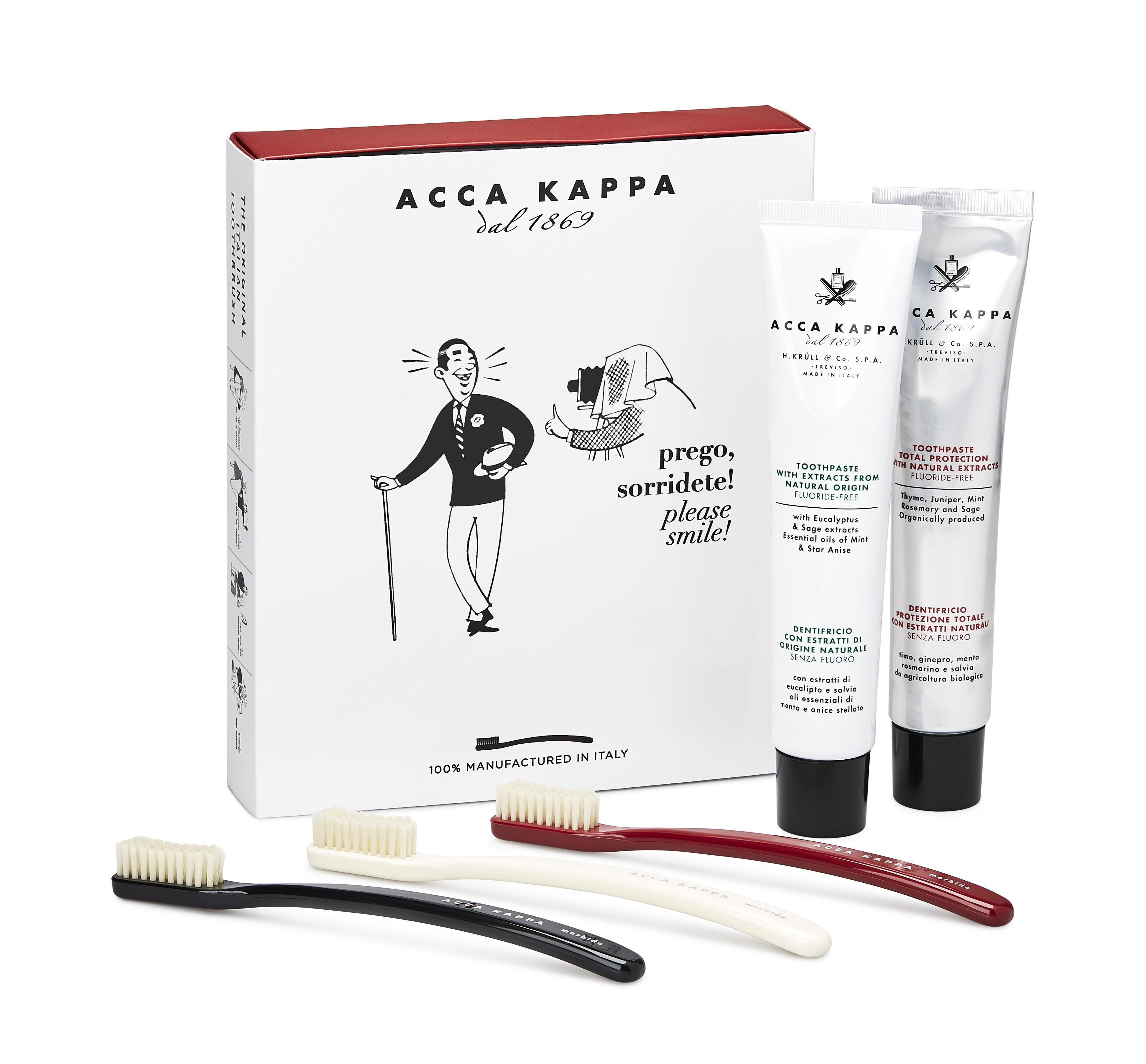 The Vintage Collection Gift Set, including:
3 x Vintage Medium Nylon Toothbrushes (in Red, Black and White)
Total Protection Toothpaste 100ml
Natural Toothpaste 100ml
3 x Vintage Medium Nylon Toothbrushes
Dedicated to the traditional beauty of the ''vintage'' style, this new range of toothbrushes uniquely honour the heritage of ACCA KAPPA.
Balancing modern ergonomic design with retro-style, these toothbrushes elegantly recall the beauty of the past.
The original Italian toothbrush.
Total Protection Toothpaste
Total Protection Toothpaste with essential oils and natural extracts of thyme, mint, rosemary, sage and xylitol. Helps to prevent plaque, tartar build-up and cavities. 
Natural Toothpaste
Natural fluoride-free toothpaste with Eucalyptus and Sage extracts, and Mint and Star-anise essential oils. Ensures freshness and protection for gentle yet effective oral hygiene.
Does not contain: Parabens, Fluoride, SLS, Colourants, Isothiazolinones