75 Years of MÜHLE Rasurkultur
Only a few experts in the world master the art of brush making, a craft which has its origins in the German Ore Mountains, where Otto Johannes Müller first started making shaving brushes in the town of Stützengrün in 1945.
Shortly after returning from war captivity, Otto J. Müller possessed the optimism to found a small business. The company founder had almost no funds, premises or materials to begin with. The business began in a wash kitchen where bristles were boiled and other essential items were produced, such as lights which were constantly required due to power cuts at the time.
Müller means mill worker in German, and Mühle- mill, and so the story begins with the MÜHLE brand: to this day, a logo in the form of a mill adorns each product.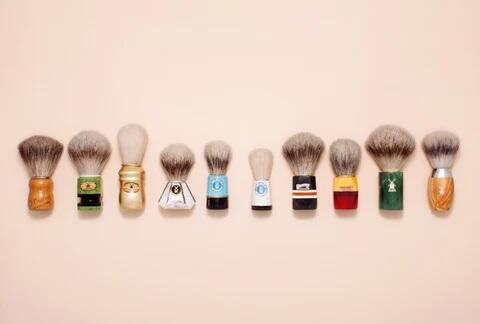 A snapshot of MÜHLE shaving brushes through the years.
MÜHLE brushes gained good repute and Müller started shipping his creations far away, to places like Greece, Russia and the Middle East. Shipments were taken by horse-drawn cart to the railway station in the neighbouring town. As the demand for top quality shaving accessories rose MÜHLE became ever more dedicated to refining the brush-making craft and their products. Brush making requires skilled craftsmanship, passed down through generations and learned over time. To this day, MÜHLE still employs this traditional craftmanship to ensure the quality of their shaving brushes, along with the latest technology, making their shaving products second to none.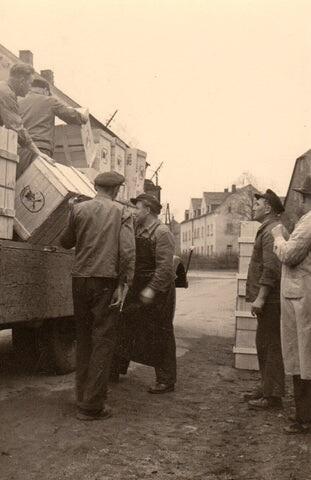 MÜHLE products leave Stützengrün in horse-drawn cart in the 1940s.
Brush heads, for example, are made in an elaborate procedure, where fibres and hairs are weighed to the exact gram. Specialist brush makers still sit at vibration-free tables made of granite, their selection of tools includes a coarse wooden comb with metal teeth, steel pliers and a sharp knife. Handle materials also processed with a good eye and a sure touch; wood surfaces are given a lasting seal using thermal methods and oils.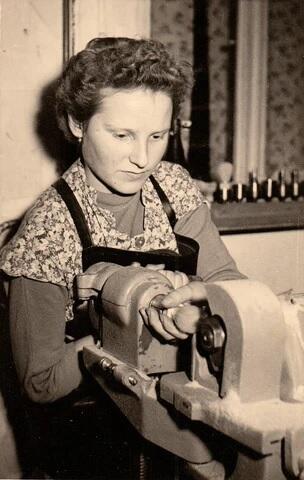 A MÜHLE shaving brush is meticulously created in 1950.
This faithful dedication to the production of premium shaving products, was to become an integral part of the company's resilience in the face of the challenges to come. In 1949, a fire destroyed the entire company building and with it all materials and stocks. However, this setback could not discourage Johannes Müller. The company was able to use the premises of a former local textile firm to continue its work.
Throughout the 1950s the business grew and by 1963 goods were being exported to 36 countries. The company continued to grow and was soon employing around 40 people. Following the early death of the company founder in December 1965, his son Hans-Jürgen, who had just completed his studies, took over the management of the company.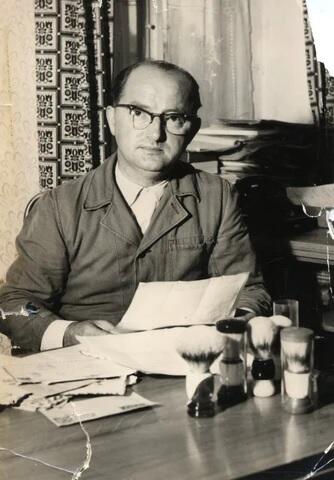 Otto Johannes Müller in 1955.
In 1970, the company moved into the new production and administration building at the previous location. The main customers were state trading companies in the German Democratic Republic (GDR) and its "socialist sister countries". Private businesses like MÜHLE were a thorn in the flesh of the GDR leadership. Under pressure from the state, the owners were forced to sell their businesses for a low price. On 17 April 1972, O.J. Müller KG became a Publicly Owned Operation (VEB). In the time that followed more and more individual businesses were merged to form larger units.
Under pressure from GDR, MÜHLE became a publicly owned operation in 1972.
Ultimately the former private business became the production facility for brush manufacturing, incorporating everything that made brushes in the former GDR.
Hans-Jürgen Müller left this operation in 1987 to found a craft enterprise manufacturing brushes which belonged to the Stützengrün brush makers' cooperative.
Following the major political changes in 1989, with the fall of the Berlin Wall, the possibility of the reprivatisation of the company arose in 1990, when it was renamed Hans Jürgen Müller KG. In November 1990, a new chapter in the company history began. Hans-Jürgen Müller recalls: "I always expected the initial situation to be difficult, but what we found was much worse."
All the previous customers had disappeared off the radar. Of the more than 30 staff, only four could be kept in employment. For nearly three years the firm fought to survive. From the mid 1990s things gradually improved. It was possible to re-employ former staff members. With quality and flexibility, new customers were acquired. In the same year, the company celebrated its 50th anniversary.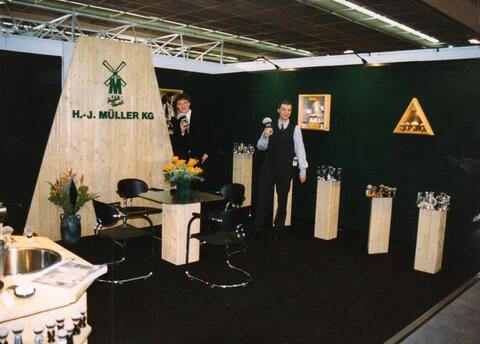 H.J. Müller rebuilt the company with the help of his sons Christian and Andreas, pictured here in the 90s.
In the following years, MÜHLE continued its mission to create unparalleled high-quality shaving products. The range was extended to fully encompass what we refer to as 'Rasurkultur' (shaving culture), which includes everything from brushes to razors to shaving accessories to provide customers with a nurturing wet shave- a shave that is a loving ritual not a task.
The manufactory grew, undergoing modernisation and expansion, with MÜHLE products being exported all over the world once again.
The MÜHLE Historical Collection opened in 2006, a place of inspiration for MÜHLE and guests alike, it hosts some 2,000 exhibits from 200 years of history, telling informative and curious tales about the art of shaving.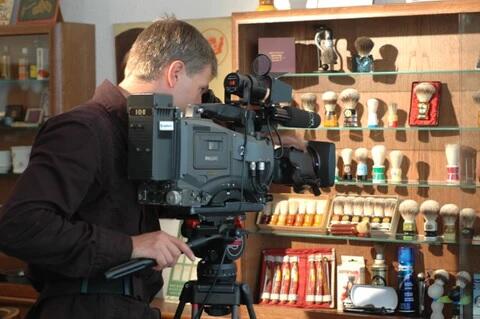 The Historical MÜHLE Collection is filmed
From 2008 the MÜHLE Manufactory grew to include spacious new buildings meeting high ecological and industrial standards, these almost doubled the area for series production, logistics and administration. In 2010, the site was extended into a fully integrated company with exemplary inhouse production depth.
To mark the 65th anniversary of MÜHLE, the most extensive collection was presented since brand came into existence in 1945. In 2010, the design-oriented portfolio for wet shaving accessories was broken down into the main series, "CLASSIC", "MODERN" and what we now refer to as "INTRO" offering a range of styles and price points for razors and brushes, making Rasurkultur suitable and accessible for everyone.
By 2014 the first MÜHLE brand store had opened in Berlin, celebrating 'Rasurkultur'. The shop includes an elegant showroom for the MÜHLE Collection as well as a small yet exquisite barbershop offering shaves and haircuts with one of Berlin's best barbers.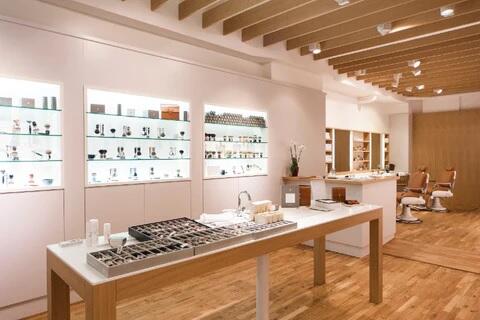 The MÜHLE Store Berlin
The loving, forward thinking approach to brush making and all things shaving continues to be an integral part of the MÜHLE brand, now run by Otto J. Müller's grandsons Andreas and Christian Müller. Still based in the Ore Mountains its brush making craftsmanship is true brand legacy, as are its razors particularly the plastic-free double edge razors- lifetime products which bring a pop of personal style to any bathroom.
With more work on additional buildings as well as changes to existing ones, starting in 2016 the MÜHLE Manufactory now includes, social, office and optimised production spaces as well as a store for visitors to shop and the Historical Collection. In this Manufactory MÜHLE series products are still made by hand; metal parts of brass are painstakingly chrome plated, while gleaming surfaces are created by repeated polishing treatments. The assembly of individual components is also done by hand, and when complete each item is scrutinised before it passes to the hands of its new owner.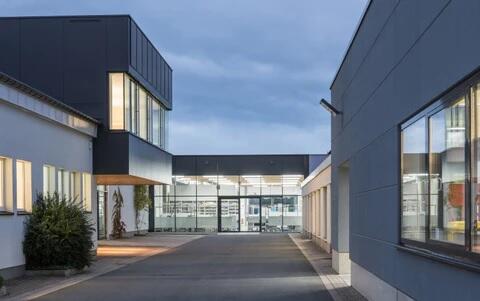 The MÜHLE Manufactory has continued to grow over time, the modern workplace that meets high ecological and industrial standards includes social and office spaces in addition to optimised production spaces
This faithful dedication to shaving products has led to successful collaborations. MÜHLE's HEXAGON series, a collaboration with renowned Berlin designer Mark Braun was awarded the German Design Award and Red Dot Award in 2017.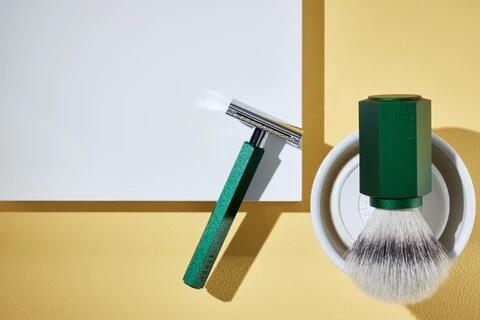 The award winning MÜHLE Hexagon Set in Forest Green
By 2018, MÜHLE's breath taking Meissen EDITION set was launched, with handles of the series made by Meissen, arguably the most renowned porcelain manufacturer in Europe. The porcelain handles of the Meissen shaving set are hand painted to include Meissen's iconic Ming Dragon, bringing true works of art to the shaving ritual.
MÜHLE continues its mission to bring the ritual of the nurturing wet shave to bathrooms around the world; with MÜHLE Store London opening in 2018 and the Treatment Space on the lower ground floor opening the following year. The beautiful little flagship store houses the MÜHLE collection, as well as a historical exhibition and art-deco barbershop, rated one of London's best barbers. German Rasurkultur can now be found on Newburgh Street, near Oxford Circus and indeed in shaving shops all over the world.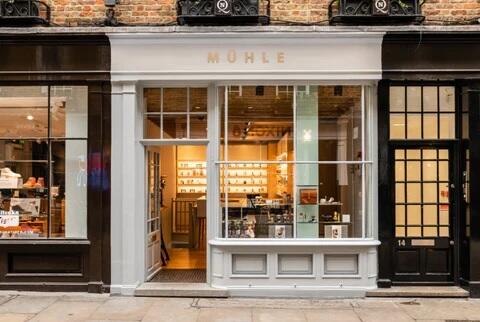 MÜHLE Store London