PURO SANGUE, the new Musgo Real Fragrance
A fragrance with a pure heart and an untameable soul. Warm and captivating, the new Musgo Real Puro Sangue Eau de Toilette embodies the magnetism and the noble strength of the Lusitano Purebred – in Portuguese, Puro Sangue Lusitano. This horse, considered by many one of the most beautiful in the world, served as inspiration for the creating of the fragrance that is both soul warming and daring. Presented in a deep, earthy red the fragrance has a bold heart with contrasting notes such as violet and leather- it is a celebration of the unstoppable strength we all carry inside and the unshakeable desire to move forward. Available as a 100ml Eau de Toilette, iconic 190g Soap on a Rope, and 160g Body Soap. Mini soaps are also available for occasional Gift with Purchase promotions.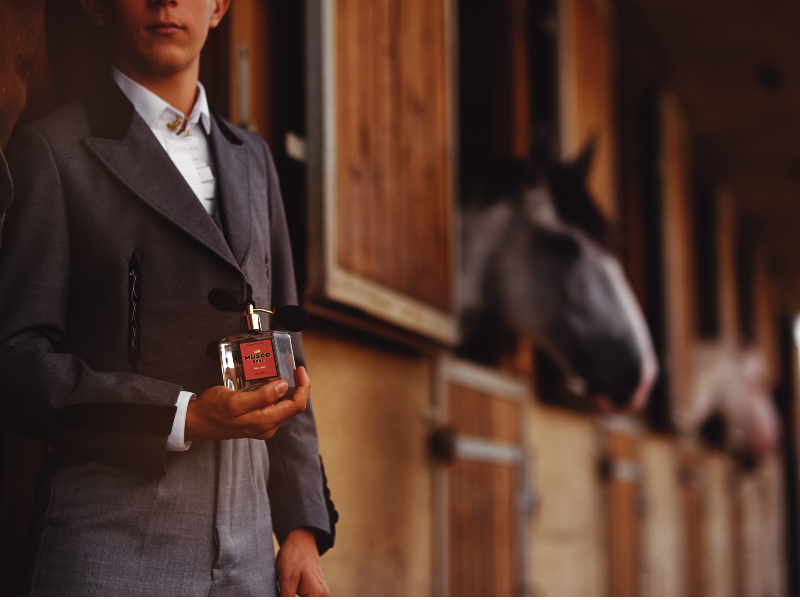 The Scent: Spiced Woody with a Floral Heart
The fragrance opens with the sparkling freshness of citrus fruits- bergamot and lemon – and the warmth of nutmeg. In the heart notes, a bouquet of violets is combined with cedarwood and powerful leather notes. The base notes combine the intensity of vetiver and patchouli with the sweetness of vanilla, tonka bean and powdery musk.
Olfactory Notes:
Top Notes: Bergamot, lemon, nutmeg
Heart Notes: Violet, leather notes, cedarwood
Base Notes: Vetiver, patchouli, musk, vanilla and tonka bean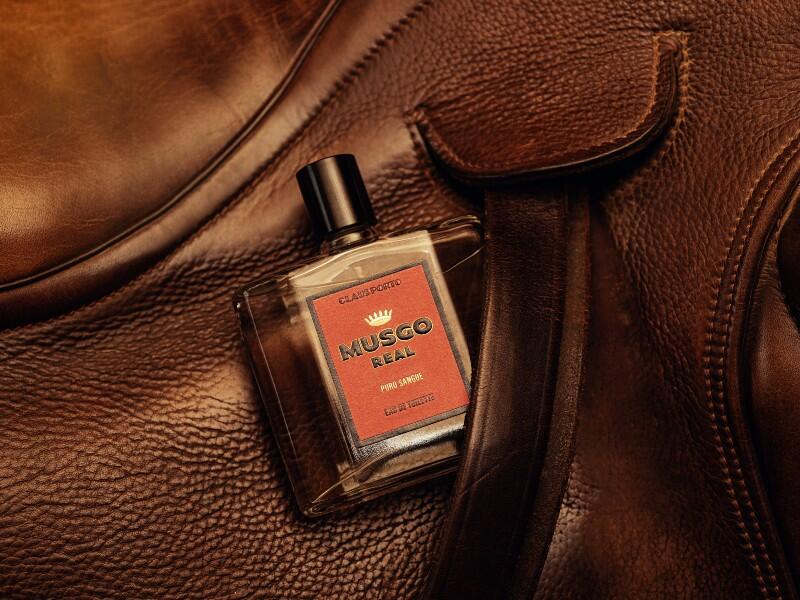 Perfume Creator: Daphné Bugey
The creation of this new fragrance is once again signed by French perfumer Daphné Bugey, who also created the Alto Mar fragrance for Musgo Real this summer. Living in Portugal since 2018 Daphné chose to live there to be closer to nature and the sea, elements that inspire her in her creations. Curious about the world around her, Daphné sees learning as an inexhaustible source of inspiration and all her creations reflect this: audacious, spontaneous and free.
The Soap:
Renowned for their exquisite, handcrafted soaps, available in an array of magnificent fragrances and individually hand wrapped, Claus Porto have been making soaps since 1887. Renowned globally for the quality, their soaps were even named as one of 'Oprah's favourite things'. Puro Sangue soaps are made with a 100% vegetable base and enriched with walnut oil, an indigenous and magnificent ingredient that reinforces its moisturising benefits, produced and packaged in accordance with the artisanal traditions that have been perfected over 136 years (and counting!) to guarantee their effectiveness, quality and durability.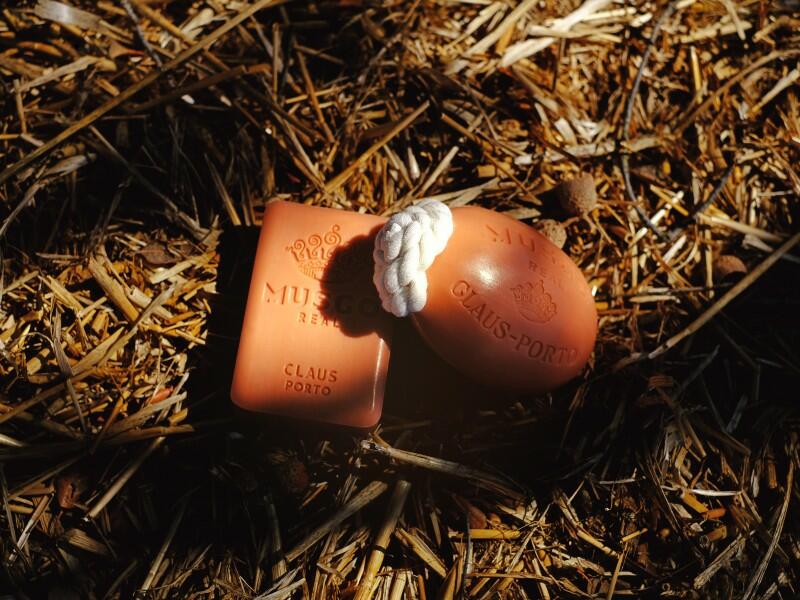 Campaign & Partnership:
Claus Porto partnered with working farm, winery and luxury hotel 'Herdade de Malhadinha Nova' in the heart of Baixo, Alentejo, Portugal for the Puro Sangue campaign. Described as 'a place with many places inside, a dream that someone made come true' time seems to stop in 455 hectares, which is submerged in silence. There, the Lusitano Purebred horse, 'Hero' became the star of the campaign along with noble horseman, António. Here the land is experienced in its most beautiful and purest expression, the heat of the earth, the boldness of heart that connects so deeply to the rural Portuguese spirit.
Packaging and Presentation:
The oxidised red chosen for Puro Sangue is evokes the earthy, rural landscapes where the Lusitano Purebred resides. The Eau de Toilette bottle has retained the angular Art Deco design of the Musgo Real collection and is presented with a retro-inspired black and gold atomiser 'puffer' spray, enhancing the application experience. For travel purposes the puffer atomiser can be removed and replaced with a cap, so the fragrance can then be applied more like a traditional 'splash'.
A pure cotton cord is used for the Soap on a Rope, making it both practical and easy to use. Innovative packaging has been designed to be fully recyclable, totally glueless and sustainable.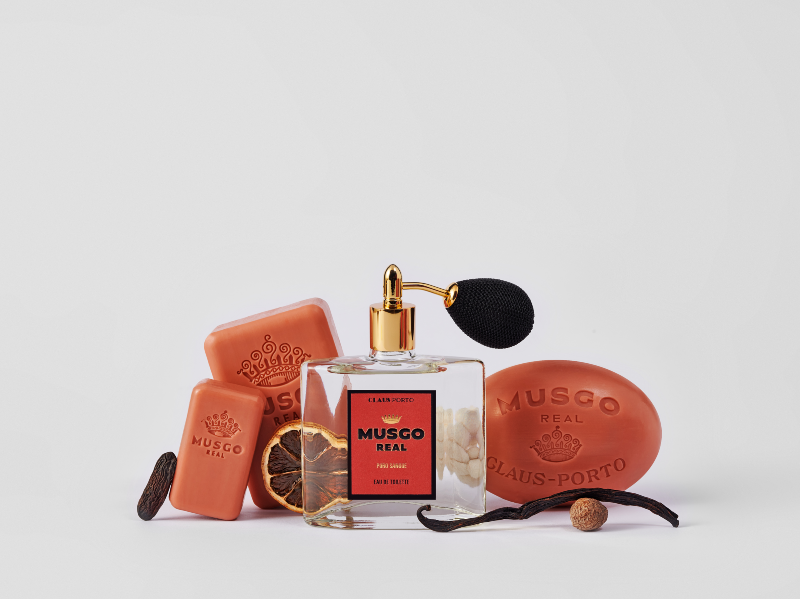 Musgo Real Alto Mar Line, RRPs:
Musgo Real Puro Sangue Eau de Toilette: £95
Musgo Real Puro Sangue Soap on a Rope: £24
Musgo Real Puro Sangue Body Soap: £16
Musgo Real Collection
Launched by Portuguese brand Claus Porto in 1936 Musgo Real (meaning 'Royal Moss') was one of the very first grooming collections for men. Combining classic scents with formulas enriched with the finest ingredients the collection quickly grew in popularity, becoming one of Claus Porto's best performing lines. Prioritising quality and craftsmanship, contemporary Musgo Real creations like Puro Sangue, Alto Mar, Black Edition and Classic Scent retain the inherent essence of the iconic men's collection: elegant, sophisticated and minimal with a masculine touch.
Order Musgo Real
The Musgo Real collection is available from the Brighton Group warehouse in East Sussex for exclusive UK retailers.
Explore and Order Musgo Real.
Apply for a Trade Account with Brighton Group.
Like what you're reading?
Here's some more blogs we think will interest you:
Claus Porto: A Story of Relience & Beauty ...Read more
Alto Mar, The New Musgo Real Fragrance ...Read more
75 Years of MÜHLE Rasurkultur ...Read more